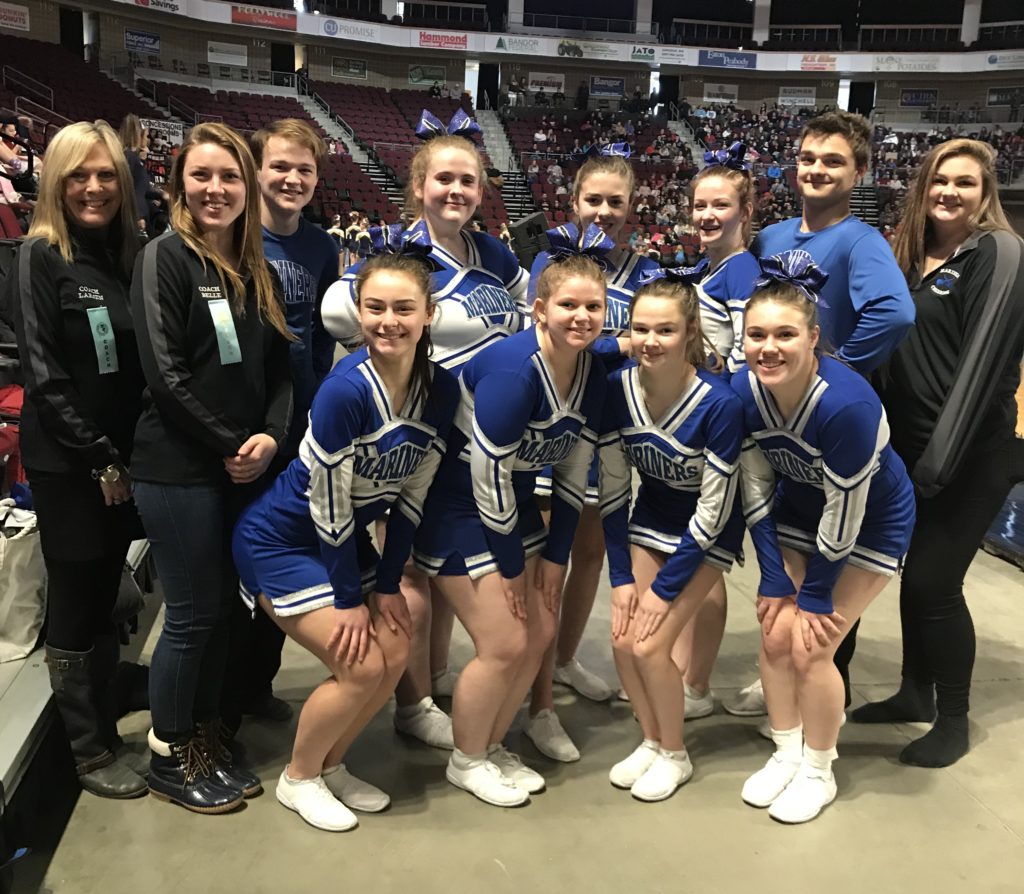 BANGOR—The Deer Isle-Stonington cheerleaders performed their routine of dance, cheers, tumbling and stunts  at  the Class D state championships Saturday, February 10 for a sixth place finish with 44.7 points,  just 0.2 points shy of tying for fifth place.
Central Aroostook, winners of the northern championship, brought home the state title in  a competition so tight that the winning team scored less than two points more than sixth place score.
The Mariners were one of 18 Class D cheering teams across the state vying for honors at the state competition.
"I'm very happy with our performance," Coach Amber Jones said after the awards ceremony.  "We made very big changes to increase our score, and hit them well and with confidence for the most part. [The team had] only one small mishap that did not lose us any points."
The squad had been adding to and fine-tuning their routine after placing fifth at the northern regional competition two weeks ago. Both championships were held at the Cross Insurance Center in Bangor but the regional event was smaller with only eight teams in competition. The top six qualifying for the state championship.
"The kids are happy with what they brought, and they overcame team goals all day and came together for each other," Jones said.
First-year  coach Jones, and assistant coach Belle Merritt, were joined by former, veteran Mariner cheering coach Kim Larsen in bringing the squad to and through the state competition.
"It's sad that it's over and that we lose two amazing athletes as seniors, but we will be back next year with experience and to build some more and every year after that," Jones said.
The two seniors, Aja Quintal and Delaney Billings, were joined by Eden Dunham, Emma Plummer, Rachel Shepard,  Ariel Larrabee, Drew Wendell, Mason Plummer, Tori Eaton and Grace Morey.
"[The] top six in the state for class D [is] something for them to be proud of," Jones said.  "And I'm even more proud of them for being good sports for all teams and encouraging everyone."