BLUE HILL—In a game that pushed both George Stevens Academy and Dexter into two extra innings, the Eagles lost their playoff bid 9-7 on June 8 in a preliminary playoff game on home field.
"They did such a great job and fought hard," Coach Stormi Wentworth said after the game. "Our problem was lack of experience in base running. That killed us."
The team started strong in the first inning when Katrina Limeburner hit a home run. By the end of the second inning, the Eagles were up 4-2.
But for the first five innings, the Eagles were dominant, pulling ahead to a 6-4 lead off of smart swigs at bat and strong infield play. Dexter tightened up their infield in the sixth inning to pull ahead 7-6 but George Stevens tied it up with an RBI off a hit by Hannah Peasley.
Then Dexter scored two runs for a 9-7 lead in the top of the seventh inning, and the pressure was on the Eagles. Their answer? Two doubles and a triple.
With two strikeouts on the scoreboard, Allyson Snow let loose a hit deep into the center field for a double, followed by a  double from Lily Cox that brought Snow across home plate. A triple by Katrina Limeburner evened up the score, and after a pop fly went straight into the Dexter's centerfielder's glove, Dexter stepped up to the plate.
Both teams played tight and cautious in the eighth inning, with neither scoring. In the top of the ninth inning, Dexter let loose, scoring four runs for a 13-9 lead, and when it was the Eagles turn, they could not convert base hits and walks into RBIs.
"They've been a comeback team all season," Coach Stormi Wentworth said after the game.  It's just disappointing we didn't pull [this one] off."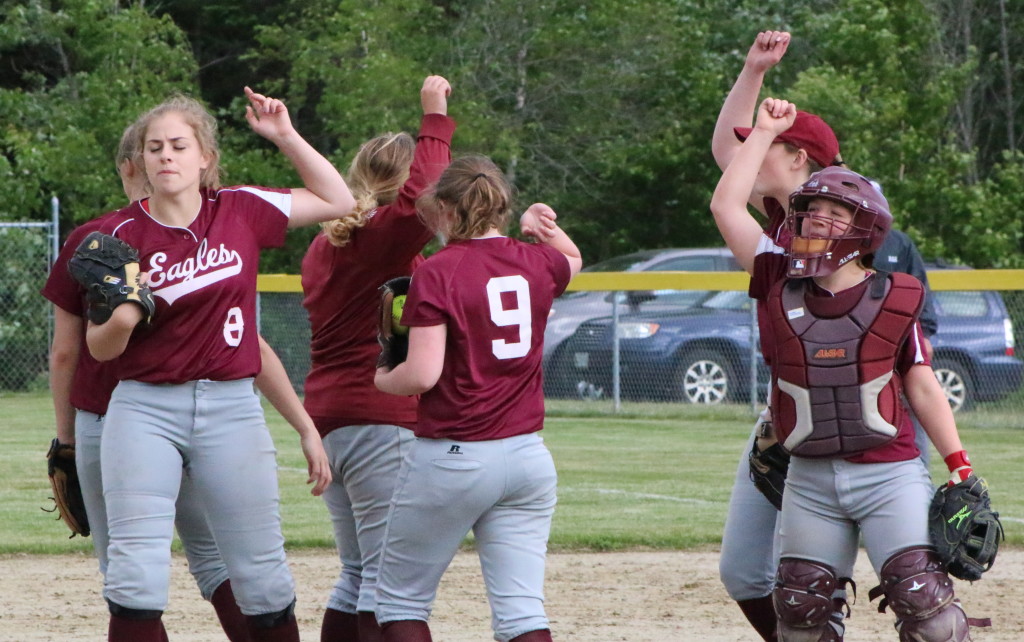 Snow hit two singles, Cox a singe, double and an RBI, and Limeburner hit a home run, two singles, a triple, with 3 RBIs. Olivia Stevenson hit a single and had two RBIs.
The  Eagles finish their season at 7-10.